Loopwheel is a way of producing fabric through a toothed-wheel process that weaves the cotton yarns around a cylinder. This process was developed in 1926 by the Italian inventor Giuseppe Negra, and its distinguishing feature is that it is done on machines that revolve around vast cylinders at a very very slow pace, weaving and stacking layer upon layer of cotton fabric onto them.
These machines can only complete 24 rotations per minute, which means that it takes 1 hour to produce 1 metre of fabric. The result is metres of hanging-knit cotton fabric around a cylinder, which becomes the body of the garment itself. In contrast to the majority of garments today, the hallmark of these is that, the body being shaped by a "tube" of fabric (tube-knit fabric), they do not have side seams.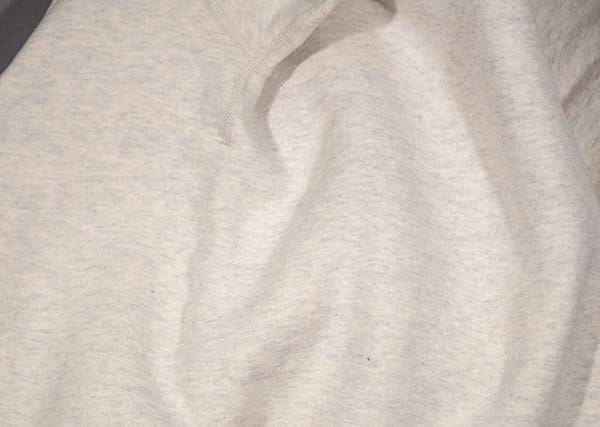 The Strike Gold loopwheel sweatshirt
However, given the slow speed of manufacturing the fabric and that each machine can only produce one size of garment according to the cylinder size, these machines gradually disappeared as mass production took hold. They were replaced by high-speed weaving machines working up to 10 times faster. Loopwheel machines started to be replaced in the 1950s and the last machines were manufactured in the 1970s.
Where is tube-knit fabric still being made?
At present there are only two factories in the world manufacturing tubular fabrics from which to make seamless garments. One is Kanekichi Industries located in Japan's Wakayama Prefecture, and the other is the Merz B. Schwanen factory situated in Germany.

Kanekichi Industries was Founded in 1920 they are one of the few remaining "tsuri-ami-ki" or loopwheel knitting machine factories still around. They are still producing fabrics on vintage machines, some of which are 80 years old, with only a handful of experienced artisans having the ability to attend to these machines on an ongoing basis. There are currently around 400 of these machines in Wakayama, of which only around 200 are still operational. The Rite Stuff pocket T-shirts or The Strike Gold sweatshirts fabrics are examples of shirts made from tube-knit cotton fabric produced in Kanekichi industries in Wakayama.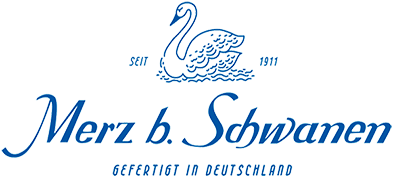 For its part, Merz B. Schwanen was founded in 1911 by Balthazar Merz and after several decades in operation, the heirs fell victim to mass production and had to close the factory due to a lack of orders. However, a few years ago Peter Plotnicki, a professional designer and tailor, found in the Swabian Alps (Germany) a room filled with authentic circular weaving machines dating from the years between the 1920s and '60s belonging to the Merz family, and so in 2011 he decided to embark on a project consisting of reviving these machines to manufacture new yet traditionally made tube-knit fabrics.
Which characteristics define the garments made from this type of fabric?
The slow pace of toothed-wheel machines means that the cotton yarn undergoes no tension. The only tension applied to the fabric by these machines is gravity, and so the end result is a fabric of medium-high basis weight, soft yet strong, and woven without stress or tension to fall down by its own weight around the cylinder.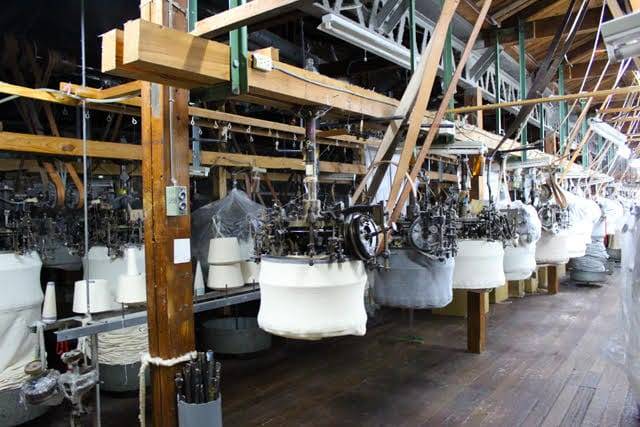 Kanekichi Industries Wakayama loopwheel restored machines
This fixed-diameter cylinder becomes the body of the garment. This means that different-sized machines are required for producing fabrics in different body sizes.
Kanekichi Industries Wakayama loopwheel tubular machine
While it is true that the cost of garments manufactured from this tube-knit fabric is higher than those made on modern machines, there are several circumstances that account for this:
On one hand, as we said earlier, there are few machines around the world that produce them, and each one of them can only weave sufficient fabric for around 20-25 shirts in one day if they were running without a break;

These old looms, despite being far slower than modern machinery, are capable of producing higher-quality fabrics, with a hand-woven touch and feel that cannot be replicated by modern production techniques;

The resulting garments are highly durable, comfortable given the lack of side seams, and age wonderfully over time.

Each Loopwheel machine has more than a thousand beaded needles set on them. Each of these needles is set by the hands and eyes of craftspeople that maintain and keep the machines running. This entirely analog process also keeps the quality of the finished fabric consistent.
In addition, tube-knit construction ensures that the garment retains its real shape, not only during production but also throughout its useful life. It does not lose its shape after a few washes and is thus an optimal material, mainly for T-shirts and sweatshirts.
---