Perfect Lightweight Jeans For Summer
When the summertime arrives and the heat starts to attack, one of the ways to keep it in line is to wear lightweight clothes. But how can we do this when we are japanese denim lovers? Don't worry, we got you covered.
In the first place, denim is made of cotton which is a fabric with the characteristic of being a very breathable material making it great for staying cool in hot weather but also being very warm in the winter season. The difference between these two sides is the thickness of the fabric. As thin it gets, the more breeze it will be, and as thick it gets, the warmer it will be.
Here you will find 5 different and amazing Japanese denim jeans, all light and fresh to wear this summer.
---
Pure Blue Japan XX-013 14oz Slim Tapered Jeans
Imagine a pair of jeans that melt to your body and get even better with each wash… sounds good, right? If you think so, you probably need these jeans.
The Pure Blue Japan XX fabric is built on the rigid slubbiness and deep indigo of their denim. Their leaf logo, embroidered on the back pocket of every jean of the brand, represents the leaf of the Indigofera plant used to create natural indigo dyes.
As a 14oz slim tapered jeans, they have low-tension woven on a vintage shuttle loom, which helps with the transpirability making them comfortable and adaptable to wear every day.
---
ONI Denim 689 "Kiraku II" 12oz Relaxed Tapered Jeans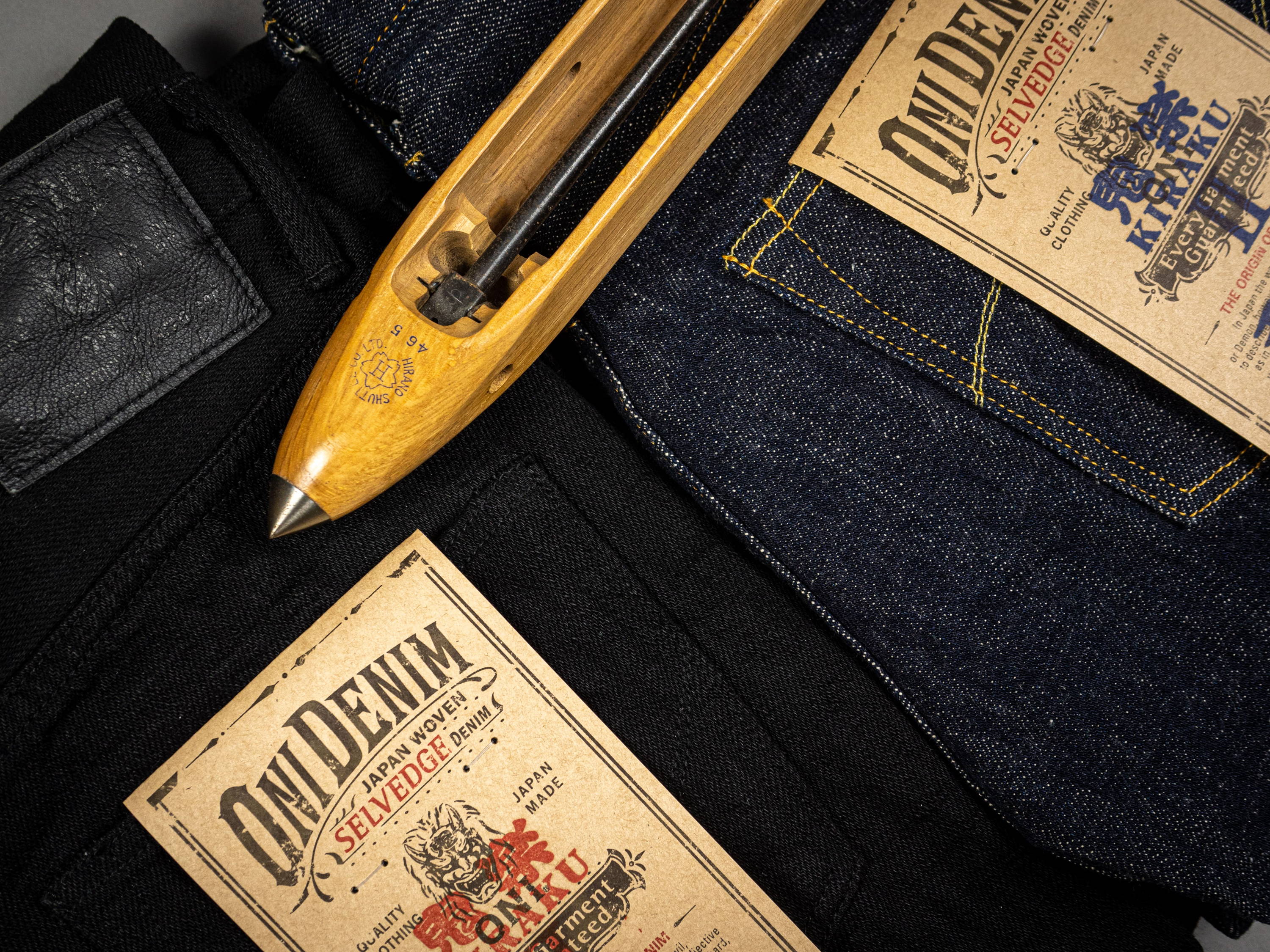 ONI Denim is a brand with a LOT of history. Besides the Secret Denim, they also have relatively new fabric, the Kiraku denim (鬼楽) where the shuttle looms were even more manipulated to get an ultra-low tension, combining different types of cotton (Peru and Pima) helping to create a very transpirable fabric.
Weighing in at 12oz, available on Indigo and Black, these relaxed tapered jeans have a comfortable, lightweight & relatively smooth weft.
Fun fact: the kanji for Kiraku, 楽, translates as "comfort" or "ease".


---
TCB, which stands for Two Cats Brand or Taking Care of Business, is a brand that has some of the highest quality reproductions of the classic American denim icons produced from the 1920s to the 1960s, all made in their workshop on sewing machines more than a hundred years ago.
This new "R" version has modified the shape of their popular Slim jeans, looking for a slimmer and more tapered silhouette with a moderate higher front and back rise.
Made of 100% Zimbabwe cotton, these 13.5oz unsanforized and slubby jeans with a deerskin leather patch are the contemporary cut you have been looking for.
---
ONI Denim 602LW-BE "Super Low Tension Beige" 12oz Relaxed Tapered Jeans
We, as denimheads, are indigo lovers. The blue jeans are classic but thankfully, japanese denim brands offer us a few different options of colours with the same quality standards as a pair of indigo jeans. For example, ONI Denim offers a lightweight 12oz super low tension denim woven using rope-dyed beige yarns; being a great option for the summer because it is transpirable and it doesn't absorb the light, it reflects it to keep you cool (on the temperature and the looks!).
The jeans have all the superior-quality features: copper buttons, a custom veg-tanned deerskin leather patch, and cotton from the United States and Peru. Their cut is a relaxed tapered fit, allowing a lot of space at the thighs with a mid-rise.
---
ONI Denim "Organic Cotton White" 14oz Jeans
Additionally to the Beige ONI Denim Jeans, they also have two special jeans with different cuts, both being 14oz and made with the same high-quality organic cotton (Label Grade OCS 100). One, the 546-OGW, it's a pair of tight straight jeans, while the 679-OGW is a pair of strong tapered denim jeans.
The results of the ultra-low tension on the 14oz fabric is a fantastic slubby, neppy and soft texture that is also transpirable. Even though the organic cotton is stiff, the ONI technology spins soft yarn and finishes it softly.
---
3sixteen CT-101xs 12oz Stonewashed Jeans
As a bonus, we present you the 3sixteen CT-101xs 12oz Stonewashed Jeans.
Even though 3sixteen might not be a Japanese brand, but they have AMAZING selvedge pants. These stone-washed denim jeans have a great faded look. They are soft, broken-in hand and ideal to be worn all year round thanks to their tapered cut from the knee down. Also, the CT-101x utilizes a lightweight indigo selvedge denim woven that have an astonishing blue colour.
If you want to explore all the jeans at once, you can check them here.
And, follow us on Instagram and subscribe to our newsletter to keep you updated when we have new releases.